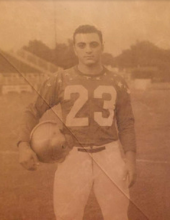 Obituary for Noel Joseph George
Noel Joseph George, former math teacher, football, and baseball coach at Lowndes High School and Valwood, passed from this life on October 11, 2017. The service will be at St. Johns Catholic Church on Sat. Oct. 14, 2017, at 10 a.m.
Noel Joseph was a life-long resident of Valdosta and member of St. Johns Catholic Church. He went to St. Johns Catholic Elementary School and to Valdosta High School, the first time they had twelve grades. He said it was just a repeat of the eleventh. He had an illustrious career with the Valdosta Wildcats, playing fullback and kicker, and was named one of the High School All-Americans. He taught a full load of mathematics, five classes a day, head of the Math Department, teaching every subject at one time or another. Many of his students went on to be math teachers themselves. He was a graduate of Valdosta State University with a degree in accounting and education. He received a Masters in Math and Administration from Stetson University in Deland, Florida.
He was the head baseball coach at Lowndes High, leading his team to many region championships and one AAAA State Championship in 1981. He was also the offensive coordinator coach for Lowndes football team, which won State also in that year. A great group of young men, he often said.
He was the devoted father and husband of Roberta Haas George for over 60 years with seven children, Mary Catherine George Lama , Roberta George Bienfait, Jody George Lumsden, Victoria George Fortenberry, Noel Joseph George, Jr., Robert Haas George, and Nashlee George Young. He was the grandfather to twelve grandchildren and three great grandchildren.
Funeral mass will be at 10 a.m. on Saturday, October 14, 2017, at St. John's Catholic Church on Gornto Road.
In lieu of flowers, donations can be made to the St. Johns building fund.