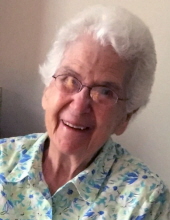 Obituary for Eugenia Godard Hobbs
Eugenia Hobbs was a determined woman. When she saw a need, she jumped into action to meet that need. It might be standing strong for integration in the 1960s and enduring the subsequent threats. It might be successfully petitioning the city to pave two neighborhood roads. Each need was important to her, and she worked toward a solution with equal diligence and determination. She was a doer as well as a thinker.
The core of her community involvement was through First United Methodist Church. She joined upon moving to Valdosta in 1954 and was honored for her service in 2017.
Eugenia Godard Hobbs, 97, of Valdosta, widow of Harvey Butler Hobbs, died Monday, October 1, 2018 at Langdale Hospice House. The funeral is 11 A.M., Friday, October 5, 2018 in the Carson McLane Funeral Home Chapel. A fellowship reception will follow at Park Place, 108 West Park Avenue. A private family burial will be at Sunset Hill Cemetery.
Mrs. Hobbs' major career was with Valdosta's school system as secretary to five superintendents preceded by a stint as secretary to Valdosta Junior High School principal Buck Thomas. She never admitted that she took that position to watch over her son, David Hobbs, while he was a student there. Through First Methodist and its United Methodist Women, she volunteered at the soup kitchen and clothes closet, and toted her sewing machine to the church to make children's choir robes and play costumes. Mrs. Hobbs saw a need for a college age Sunday school class, and then co-founded that class. In her support for equality for all, she was a stalwart member of an interracial prayer group.
At home she was a constant reader, a writer of family history, and an accomplished seamstress. Her daughter, Susan Dods, is tall and as a teenager rarely could find fashionable clothes that fit. Her daughter would select a picture in Seventeen magazine, and Mrs. Hobbs would duplicate the outfit to fit her perfectly. She found time to do cross stitch, embroidery, and French hand sewing of beautiful dresses for her granddaughters. As a parent, Mrs. Hobbs was rather hands-off and let her children find their own way guided by what her daughter calls "Eugenia's Southern Lady Rules." She never breached their privacy and kept their confidences.
As one of four children, Mrs. Hobbs grew up on middle Georgia farms and in boarding houses her mother operated. After graduating from high school in Jones County, Mrs. Hobbs learned secretarial skills at Atlanta Opportunity School and worked for the telephone company. Later in her career, she took computer classes at what is now Wiregrass Technical College. It was, however, on her beloved typewriter and not a computer that she wrote "Mamie's Story" an 80-page history of her Godard family focused on her mother, Mamie Burgess Godard. She included seven family trees dating back to the 1500s.
Among all her other commitments, Mrs. Hobbs made the time to travel throughout Georgia taking care of her mother, who died at age 98, and visiting other family and longtime friends. Outside of Georgia, she traveled to Alaska and England in her 70s, and in her 80s to Boston to retrace her husband's ancestors' steps and to Montana with her nephew's family. She managed this because she planned ahead, was organized, and rarely was unprepared. Mrs. Hobbs knew how to communicate, how to budget, how to love, how to make those in her life feel loved, and how to get the best out of life.
Survivors include a daughter Susan Francina Dods and her husband, Rob, of Valdosta; a son, David Harvey Hobbs of Brunswick and his partner, Karen Evans, of Macon; three granddaughters, Dr. Katy Lee Barrs and her husband, Patrick Allen, of Denver, CO, Katherine Sara Dods Dasher and her husband, Jeff, of Lake Park, and Ashley Elizabeth Dods of Charleston, SC; two great-grandchildren, Alexis Dasher and Jaycee Dasher of Lake Park; two nieces, Kay Godard Robinson of Brunswick, Ga, and Sue (Ian) Richards of Mary Esther, Fl; and one nephew, Jerry (Charolette) Gardner of Gainesville, Ga.
In lieu of flowers, memorials may be made to First United Methodist Church, 220 North Patterson St. Valdosta, Ga 31602 or The Methodist Home for Children, 2545 East Park Avenue, Valdosta, Ga 31605. Condolences may be conveyed online at www.mclanecares.com. Carson McLane Funeral Home.
Previous Events
Service
Carson McLane Funeral Home
2215 N. Patterson Street
Valdosta, GA 31602
A fellowship reception will follow the service at Park Place, 108 W. Park Avenue. Valdosta, GA 31602
Cemetery Details
Location
Sunset Hill Cemetery- Valdosta
1100 North Oak Street
Valdosta, GA 31602