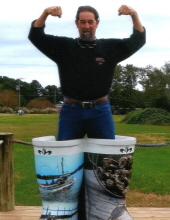 Obituary for William Phillip Savoy (Phil)
William Philip Savoy (Phil) 62 born December 3, 1956 to Daniel Ray Savoy and Bessie Marion Meyer in New Orleans, Louisiana and passed on December 3rd 2018 in while visiting family in Valdosta, Ga.
Phil's father was military, he spent his childhood early childhood on Tybee Island and Paris Island. Graduating from high school in 1975 in King George, Va.
Phil is survived by his wife Cass Melanie Roby of Hilton Head, South Carolina:
Sibblings: Catherine Paula McMormack, Richmond Va., Robert Kent Savoy, Isle of Wight, Ga., Marie Jeannine Williams, Raliegh, NC., Debra Lynn Richard, Ellijay, Ga., Pauline Christine Pond, St. Petersburg, Fl.
Children: Nicholas Savoy, Ca., Michelle Savoy, Ca., Melanie Copeland, Hilton Head Island, Sc., Michelle Poolman, Jonesboro, Ga. Two grandsons and two grandaughters.
Phil served in the US Air force from 1975 to 1980. Spending most of his time at Hill Air force Base in Utah. Phil had career in construction, building inspection and construction project management. He retired in February 2017 from Johnson Laux, Savannah Ga., as a Construction Project Manager.
Phil met his wife Cass through their mutual love for riding Harley Davidson motorcycles.
Phil took passion in building complex mechanical solutions. He outfitted their sailboat E Sea Ryder for cruising, by installing solar and wind energy generation to name a couple items. After retirement Phil and Cass set off in their sailboat E Sea Ryder to sail the US South East and the Bahamas.
Phil did not know a stranger, he was always their to help his fellow sailors around his home base Marina, Windmill Harbour, Hilton Head, SC or wherever he happened to be cruising.
There will be a celebration of life on Hilton Head, SC. More information will be provided.
Events
Event Information
Services will be set for a future date to be determined.