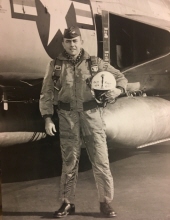 Obituary for Colonel Norman P. Huggins, USAF (Ret.)
Colonel Norman P. Huggins, USAF (Ret) passed away on Sunday, February 11, 2018 in Valdosta, GA. He was born on October 24, 1929 in Mullins, SC. As the oldest of 4 boys to the parents of J. Lawton and Lucille Wiggins Huggins of Mullins, SC, he is survived by his wife of 65 years, Mary June Norwood Huggins of Valdosta, GA, son Bruce Norwood Huggins and wife Jill Elaine Huggins of Marietta, GA and daughter Suzanne Huggins Fulbright of Valdosta, GA. He has 3 grandsons': John (Jack) Norwood Fulbright, Jonathan Norman Huggins and Peter Norwood Huggins and a brother, James Franklin Huggins of Mullins, SC.
Norman was predeceased by 2 brothers, Joseph Pierce Huggins, Dr. Kenneth Lawton Huggins and a son in law, Lt Col Barry Dale Fulbright, USAF.
Norman was a son, husband, father, grandfather, USAF Officer / Tactical Reconnaissance Pilot, Vietnam War hero, hunting/fishing enthusiast and passionate conservationist.
On October 31st 1965 (his wedding anniversary), Captain Norman P. Huggins was one of the first 10 fighter pilots shot down over North Vietnam and the 1st to make it back without being captured. He was part of what is known as a "VooDoo 101 er Tactical Reconnaissance Pilot" flying the RF 101 C for low level Tactical Recon. The tag line for these VooDoo 101 er's has become "Alone, Unarmed and Unafraid" which describes Norman perfectly. He was successfully rescued after a 3 hour engagement with North Viet Cong in the waters off shore for which he was awarded the Silver Star and the Purple Heart.
In his post retirement years Norman was instrumental in the "saving" of Moody Air Force base in Valdosta, GA from the downsizing of Military bases during the 1990's. He was also active in the Order of the Daedalians, Gator Flight, associated with Moody AFB.
Although his time as a USAF Officer was significant, he will equally be remembered as a passionate outdoorsman and conservationist. He was quite involved in helping the Nature Conservancy efforts to protect beautiful and unspoiled land tracts along the Little Pee Dee river in Marion County, SC.
Funeral Services will be held at Macedonia United Methodist Church and followed by a Graveside service at Red Hill Cemetery in Mullins, SC starting at 11:00 am on March 3, 2018. In lieu of flowers, please make donation to The Nature Conservancy in the name of Norman P. Huggins at www.nature.org. Condolences to the family may be conveyed online at www.mclanecares.com Carson McLane of Valdosta, GA and www.coxcollinsfuneralhome.com Cox Collins of Mullins, SC.
Previous Events
Service
Macedonia United Methodist Church
402 N Main Street
Mullins, South Carolina 29574