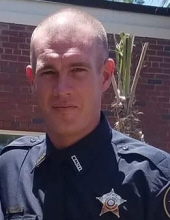 Obituary for Jacob D. Sellers
Jacob D. (Jay) Sellers, 32, of Hahira, passed away on Wednesday, February 21, 2018. He was born in Athens, GA on May 5, 1985 and grew up in Moultrie and Albany. He went into the U.S. Army at an early age, attending basic at Ft. Benning and then was assigned to 1-32 as a Mortar Sgt. for the 10th Mountain Division at Ft. Drum in New York. While in the Army he served three tours, one to Iraq and two to Afghanistan, and he was honorably discharged in 2010. He loved his brothers that he served with in the Army. After the Army, he went to college in Tampa and earned his associate degree in computer technology and was pursuing a degree in computer forensics. Jay began a career with the Lowndes County Sheriff's Office in 2015 and graduated from ABAC to become post certified in 2017. He was working at the jail and was a part of the Lowndes County Sheriff's Office Dive Team. He was working to go to road patrol. He loved his children and his family. He was a hard worker and was devoted to his coworkers.
Survived his wife Stacy Sellers, of Hahira, and his daughters, Katelyn Sellers, Ali Sellers, both of Thomasville, and Madeline Sellers, of Hahira, his son, Jace Sellers, of Hahira; his mother Kelli Benton, of Moultrie, and father and step mother, Ferrell and Penny Sellers, of Ray City; his brother, Kyle Benton, of Coolidge, and brother and sister-in-law, Bryan and Staci Corbin, of Valdosta, and brother and sister-in-law, Jeremy and Amy Corbin of Bradenton, FL; his step sisters, Courtney and Daniel Oakes, of Thomasville, and Kristen and Mitch Mitchell, of Sylvester; his grandmother, Martha Gray, of Moultrie; and grandparents, Ferrell (Big Daddy) Sr. and Dorothy Sellers, of Berlin; his aunts, Vicki Grace (David), Cindy Shinnick, Cheryle (Aunt Boo) Benton, and Kerry (Mick) Cochran (Aunt Mimi); his cousins, Daniel (Shannon) Carroll, Blanche (Shaun) Berry, Jennifer (Ed) Reed, Meghan Shinnick, and niece Alaina Corbin. He was preceded in death by his grandfather, Cecil Douglas Gray, and grandmother, Blanche Louise Gray, his cousin, Jared Carroll, and many fellow brothers in arms.
A memorial service will be held on Tuesday, February 27, 2018 at 2 p.m. in the chapel of the Carson McLane Funeral Home with Chaplain Mike Davis officiating. The family will receive friends prior to the service from 1-2 p.m. In lieu of flowers donations may be made to the fund being setup for his children. Condolences to the family may be conveyed online at www.mclanecares.com Carson McLane.
Previous Events
Visitation
Carson McLane Funeral Home
2215 N. Patterson Street
Valdosta, GA 31602
Service
Carson McLane Funeral Home
2215 N. Patterson Street
Valdosta, GA 31602