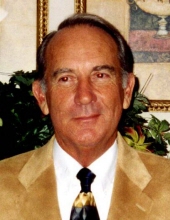 Obituary for Robert Boyd McElvey
Robert Boyd McElvey, 83, of Lake Park, GA passed away on Wednesday, June 27, 2018 at Langdale Hospice House. He was born on April 1, 1935 in Pelham, GA to the late John Augustus and Vera Mae McHargue McElvey. Mr. McElvey retired from the papermill and was a supervisor in the woodyard. He was an avid golfer and fisherman, who enjoyed his retirement to the fullest. He was a member of Francis Lake Baptist Church.
Robert is survived by his wife Connie Howell McElvey, of Lake Park, his daughter Robin McElvey Wood (Bryan) of St. Augustine, FL, his granddaughter Emily Wood, of Raleigh, NC, and two step-sons Brandon Dampier, of Marietta, GA, and Brent Dampier, of Inwood, WV. He was preceded in death by his sister Barbara McElvey Stafford.
A memorial service will be held at 1 p.m. on Saturday, June 30, 2018 at McLane Lakewood Funeral Home with Reverend Eldridge Lyons officiating. The family will receive friends prior to the service from 11-1 p.m. at the funeral home. Condolences to the family may be conveyed online at www.mclanecares.com. McLane Lakewood Funeral Home.
Previous Events
Visitation
McLane Lakewood
3119 West Marion Avenue U.S. Highway 41
Lake Park, GA 31636
Service
McLane Lakewood
3119 West Marion Avenue U.S. Highway 41
Lake Park, GA 31636