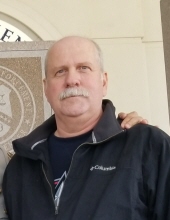 Obituary for John K. Lingenfelter
John K. Lingenfelter, Jr., 56, of Valdosta passed away on Monday, July 9, 2018. He was born on October 23, 1961 at Clark Air Base in the Philippines to John, Sr. and Audrey Pfaff Wise Lingenfelter. John, Jr. retired from the Air Force after 20 years, where he worked in aircraft maintenance.
John, Jr. is survived by his wife, Amelita Lingenfelter of Valdosta; son, Jay White and fiancé Ana of Arizona; granddaughter, Snow of Arizona; sisters, Joan (Doug) and Tammy (Ken); niece, Kayleigha; and nephews, Andrew and Ian. He is preceded in death by his father John Lingenfelter, Sr., and his brother Donald Lingenfelter.
Private services will be held. Condolences may be conveyed online at www.mclanecares.com. Carson McLane Funeral Home.
Events