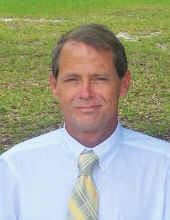 Obituary for James Carlyle Fryslie, II
James Carlyle "Jimbo" Fryslie, II, 56, of Valdosta, passed away on Thursday, July 26, 2018 at his home. Mr. Fryslie was born at Tachikawa Air Force Base in Tokyo, Japan on October 20, 1961 to the late James Caryle Fryslie and Laurel Otto Fryslie. At an early age Jim joined the U. S. Marine Corps. He was a self employed auto mechanic. Jim enjoyed Go Cart Racing and he loved the thrill and challenge of auto mechanics and took pleasure in using his skills to help others. He enjoyed finding a pond to fish out of. He was a member of the Presbyterian Church.
Jim is survived by his children, Angela Russelle and Josh Sever of Ellabell, Georgia, James Carlyle Fryslie, III, of Middleburg, Florida, Andrea Fryslie of Middleburg, Florida, and Elaina Marie Fryslie of Valdosta; his sisters Nancy J. McGee of Quitman, Penny (Jerry) Inscore, Debra Baker, Jami (Robert) Backensto, and Tammy Vitolo, all of Valdosta; his two granddaughters, Lillian and Tegan; numerous aunts, uncles and nieces and nephews.
A gathering of family and friends in celebration of Jim's life will be held on Wednesday, August 1, 2018 at the Carson McLane Funeral Home from 4-6 p.m.
The family has prepared a memory board for the gathering. Please think about your favorite memory of Jim so that we can all share our thoughts on what made Jim so special to us all.
Condolences to the family may be conveyed online at www.mclanecares.com.
Previous Events
Celebration of Life
Carson McLane Funeral Home
2215 North Patterson Street
Valdosta, GA 31602
A gathering of family and friends